Be The Best Gatekeeper – For Your Family
I want to share a little secret on how you can be the best gatekeeper for your family.  I enjoy watching The Biggest Loser.  OK, there you have it.   I like The Biggest Loser not because the trainers are killin" the contestants but how some of the contestants begin to transform into Athletes! They change!  I like to see individuals who have never believed they could win at eating well and exercise crush it.  It gives me hope!
Well last night I heard term the "Gatekeeper" for their children.  Biingo's mom had lost 27 lbs. since her son had been a part of The Biggest Loser kids.  She realised that she was  supposed to be setting the correct example for her child. Biingo's mom realised that she must be the best gatekeeper for her family no matter what.
Kids Don't Realise The Harmful Effects of Junk Food
You see  kids don't know to go out and get the junk food, buckets of ice cream, processed foods as babies and they don't realise the effects of junk food either. Their parents teach  them to eat those foods.  As adults we coach children to eat crap. Then wonder why so many kids are having the health and weight problems as they grow older like they are having today.
When the kids become teenagers, young adults or just adults with weight/health problems then everyone around them  seems to think it is perfectly OK to get on their case about losing weight.  In fact all that happens is those kids, teens or adults feel terrible and begin the struggle with their self esteem.
I was one of those kids.   It has taken me years to change all those bad eating habits.  Now I was lucky that I was an athlete as a kid.  At some level I feel it has helped me as I have gotten older to be active, lift weights and teach others to do the same.
My point is the kids who are on our lives must be given the chance today.  We must be the best "Gatekeepers" for them by NOT giving them sugar, junk food, processed food, Frankenstein foods, soft drinks, sugary drinks.  Just living in this world they will be introduced to all these junky foods soon enough.
It is time that we get the kids moving, playing and exercising.  It is time to be the best "Gatekeeper" for the kids, for the future.  They deserve it.
Will you?  It would be awesome to hear how you will be the best "Gatekeeper" for you, for your kids for the future.
Just in case you are inspired to begin an exercise program I have included a link for the Turbulence Training …Gold Medal Fat Loss Inspired by the Olympics…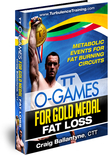 What tips will you share to be the best gatekeeper for your family?
Summary
Article Name
Be The Best Gatekeeper - For Your Family
Description
I really like to see individuals who have never believed they could win at eating well and exercise crush it. Be the best gatekeeper comes from this show
Author